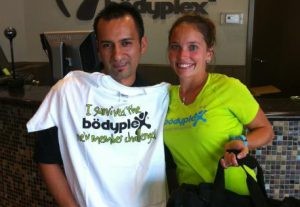 The Bodyplex New Member Challenge program: awarded the #1 Health-club New Member Integration Program in the nation by Club Industry Magazine, 2011!!!
Want to understand our commitment to the success of all Bodyplex members? Look no further. The Bodyplex New Member Challenge was designed specifically to get all new members engaged in our facilities at a frequency that would produce both a habit and results! Simply work out with us 20 times within your first 60 days of joining and our experience shows you'll be well on you're way to creating positive life-change. Need direction? We've got it! Anytime for any member we are here to help place you in a class, program or workout that will keep you on track. Oh, and did we mention you'll earn a customized Challenge SURVIVOR t-shirt and Bodyplex gym bag for your efforts!!!! See pictures below of some of our recent New Member Challenge Survivors with their new, cool gear.
Contact US
Cancellations or membership changes must be made in person or via certified mail.
Why Choose Us?
What makes BodyPlex so unique? Honestly…it's our people!! We are intentional in the selection of our greatest asset – our team! Our staff is genuine, passionate and devoted to delivering an unmatched member experience. You can interact with the owner on-site which allows us to respond more quickly to member needs.
*Please consult your physician or other healthcare provider before starting an exercise program. The claims on this site are not typical of the sedentary person. Bodyplex guarantees nothing and results may very.